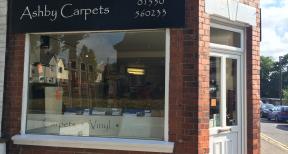 - About Us -
Established in 1988 by Rob and Marie Eccleston this family run business has seen 26 years of trade and has just been passed over to their second generation of owner.
Originally based in Ellistown, trading as 'Carpet Warehouse' the business quickly grew andafter 2 years moved to Ashby for larger premises. Now 'Ashby Carpet Centre' based on Market Street, the successful firm eventually moved to the present location just out of the town centre.
Rob and Marie's son, Joe, who had worked his way through the business starting as a labourer, gained work experience from his father Rob and showed a strong interest in the business. He worked his way up to take over in 2013 when after 25 years, Rob and Marie retired.
Ashby Carpets have a full showroom with parking for customers to the rear.
Why not pop in and speak to one of the helpful members We have a small selection of toys for children too!